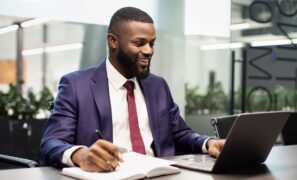 Employees have more options than ever before, so what is compelling about your organization? Organizations are weighing how they can attract and retain top-performing talent, including competitive salaries and bonuses or hybrid/work-from-home expectations. Although these benefits are undoubtedly important, research reveals that employees are highly interested in companies that offer development opportunities. According to a study by The Harris Poll, 70% of surveyed employees indicated that they would consider leaving their current company in favor of another that prioritizes employee development and learning.
Organizations that invest in developing their talent and helping their employees reach their full potential give themselves a competitive advantage in the marketplace.
Could talent development be a secret weapon to reduce turnover?
Talent development focuses on the continuous growth of team members. It's about walking beside them and helping them achieve their goals while working for the organization. Without talent development, employees will look elsewhere to find opportunities to grow and develop themselves. According to research by MIT and Deloitte, only 34% of employees surveyed are satisfied with the opportunities for development at their company, and only 56% feel that there is a meaningful opportunity for career advancement in their organization. This represents a huge competitive advantage for organizations that provide development opportunities for their employees.
Talent development maximizes value for both the organization and the individual. The organization reaps the benefits of high-performing and motivated talent staying and growing within the enterprise, reducing costly turnover and challenges in the workforce. The individual receives education and development while working toward meaningful career goals and opportunities. A mutually beneficial relationship creates more opportunities for everyone: the organization, the leaders, the shareholders, the customers, and the workers. Leaders need to ask: How can I start having conversations that help individuals explore development opportunities? In turn, these conversations will reveal career aspirations and learning goals that leaders and organizations can come alongside and support.
Are you having talent development conversations?
Talent development conversations focus on helping the employee gain insight and take action. These conversations reveal core ideals, personal qualities, and key inspirations while focusing on concrete steps and actions.
Use these questions to help spark talent development conversations:
What is most important to you at this time in your life?
What can you do better than almost anyone else? Do you have any hidden talents?
What are your career aspirations? For what do you want to be known?
What are your next steps?
How can I and the organization support you in these next steps?
"A leader is someone who holds herself or himself accountable for finding the potential in people and processes." ––Brené Brown