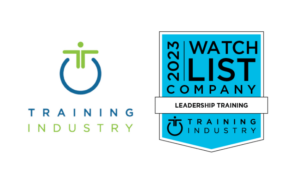 Bluepoint, an innovative leadership development and coaching company, has been selected as a featured provider on Training Industry Inc.'s 2023 Top Training Watch List. This marks the 12th time Bluepoint has been selected for the Watch List's Leadership Training sector of the learning and development (L&D) market. This year's selection was based on Bluepoint's "breadth of leadership development programs that serve the learning needs of leaders."
Training Industry Inc. notes that its Watch List is intended to better inform professionals about the best and most innovative providers of training services and technologies. Award recipients "bridge the divide between course providers and cutting-edge learning technology" that improves learner retention and closes employee skill gaps.
"The unique and emerging companies chosen for this year's Leadership Watch List bring specialized leadership content from around the world," said Tom Whelan, director of corporate research at Training Industry Inc. "These companies bring a diverse set of training topics in different modalities, such as formal and live coaching, instructor-led courses, digital content both custom and off-the-shelf, simulations and more."
Bluepoint prides itself on providing leadership development and coaching programs tailored to each participant's specific requirements for an overall transformational development experience. Programs incorporate blended learning opportunities such as facilitator-led workshops, coaching, micro-eLearning, and a full range of support tools and resources for a comprehensive learning experience for leaders at all levels.
Joan Peterson, Vice President of Bluepoint, adds, "Bluepoint is honored to again be named a Watch List company by Training Industry Inc. We have a passion for the work we do and are so grateful to be able to partner with incredible organizations who share our belief that leadership matters. We are excited to continue working with amazing leaders all over the globe who strive to make a difference in the lives of others."
Click here for information on the 2023 Leadership Training Watch List Companies.