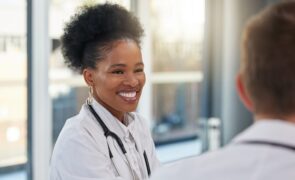 Background
Halton Healthcare is an award-winning publicly funded community hospital corporation located in Ontario, Canada. The organization provides a full range of services, including emergency medicine and medical and surgical care, as well as geriatrics and rehabilitation, maternal child, and mental health
services.
The overall organizational vision is to provide "exemplary patient experiences, always," and its mission is to be a leading healthcare organization serving people with compassionate, quality, and integrated community hospital care.
Halton Healthcare at a glance
5,000 employees and 1,000 physicians
3 acute hospitals located in Oakville, Milton, and Georgetown
Operates health services in several external community-based sites
Challenges
Healthcare has faced some extraordinary challenges over the past few years, particularly in light of the COVID-19 pandemic. In order to make progress on these many challenges, Halton Healthcare felt it was essential to equip its people with the knowledge skills, and capabilities to tackle these problems collaboratively. Dr. Edgcumbe added, "Leaders needed to go through a bit of a recovery and reset after the pandemic. We felt coaching was a great tool and resource to empower leaders to access their tool kit and pull things out to help them get through trying times.
The way we solve or make progress on health system problems is by giving people the skills, the confidence, the ability, helping them create their relationships to collaborate effectively. People development is how you solve these complex problems."
– Dr. Daniel Edgcumbe, Vice President, Medical Affairs
Main objectives
Provide staff support and tools needed to effectively lead their teams in times of extraordinary uncertainty.
Help prepare leaders to have effective conversations during difficult times.
Foster interprofessional learning between colleagues to eliminate silos and make learning more collaborative.
Grow a pipeline of effective leaders for the future of the organization.
Solution
Halton Healthcare wanted to find a partner that would further its initiative of developing a coaching culture as part of its internal Growing Leaders Program. The company chose to partner with Bluepoint because of the extraordinary results it had personally experienced from Bluepoint workshops and programs.
Leader as Coach
Bluepoint's Leader as Coach workshop was offered as a component of Halton Healthcare's successful cohort-based learning program, Growing Leaders, which has four residencies: leading self, leading clinical care, leading teams, and laterally around leading organizations.
The Growing Leaders Program is open access and consists of a mix of 24 people from different programs, professions, and sites across the organization, providing the strength of an interpersonal mix of learning.
Bluepoint's Leader as Coach workshop integrated seamlessly into its existing program and offered a strong coaching learning experience. The workshop is a practical yet immersive experience designed to help managers and leaders excel at coaching others for high performance.
Coaching Circles
As part of the program, Halton Healthcare consulted Bluepoint on best practices for offering participants the opportunity to join coaching pods, also known as coaching circles. These collaborative opportunities provide experiential learning and a reflective practice for the participants. Coaching circles help participants to solidify learning, as well as provide a safe space to interact in a smaller group.
Dr. Edgcumbe added, "We found coaching pods helped to enhance the sense of community and belonging amongst people that have participated. It's helped to create authentic, vulnerable connections between members of our workforce and helped them to empower their own teams and their own programs and problem- solving."
Train the Trainer
With the help of Bluepoint materials and resources, Halton Healthcare has also been grooming several of its leaders to become strong coaches who can facilitate coaching programs for others. The strong partnership between the two organizations has allowed Halton Healthcare to lean on Bluepoint for best practices and guidance on how to effectively "train the trainers" to become strong internal facilitators.
To support this coaching education, Bluepoint has also provided facilitated group coaching sessions and one-to-one coaching. Dr. Edgcumbe added, "We have found that this is having a profound impact on our leaders, supporting their well-being and effectiveness, and impacting the organization in a positive way which goes well beyond just the individual, but has a catalytic effect on the teams that they lead."
I first came across Bluepoint Leadership several years ago, when I was part of their executive education program. This course had such a profound impact on me and my leadership, that I was excited to have the opportunity to bring it to Halton Healthcare."
– Dr. Edgcumbe
Results
Halton Healthcare has been thrilled to see an overall increase in engagement, effectiveness, and capability in its leaders. Feedback from the participants' managers has solidified that the program has helped the leaders become more grounded and overall pushed them to grow tremendously.
Additionally, among all participants of the leadership development program, Halton Healthcare has seen turnover rates that are more than 10 times lower than the rest of the organization.
When looking at specific post-graduation survey feedback, all participants agreed or strongly agreed that:
They learned something new.
They intended to apply what they learned.
They found the session interesting.
They found the session relevant.
The session made them want to learn more.
Participants also reflected that the program helped them develop others interpersonal, thorough sensitivity and leadership presence skills. When asked about it again 30 days later in post-course follow-ups, a vast majority of participants also reported they were even able to apply these leadership competencies to their work.
There are about 100 people within the organization who have gone through the Growing Leaders Program, with plans to train another 100 people this year. Halton Healthcare is now looking to further its coaching initiatives and enhance the program by potentially building more time into the program and offering coaching circles to more participants. It's also expanding its "train the trainers" initiative to incorporate another group of eight trainers who will be part of those able to facilitate the course, as well as looking to expand that again to its growing leaders program and broader.
Great day, really enjoyed it. Engaging, informative, super interesting, great facilitators, great engagement, more purposeful connections within the group, learning together."
– Program Participant